The Oklahoma Parents Center (OPC) is excited to be bringing our next Regional Special Education Institute to Enid, Oklahoma!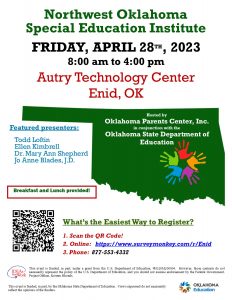 Please join us on Friday, April 28th, 2023, at the Autry Technology Center, 1201 W. Willow Road, Enid, OK 73703.
The Conference is FREE; however, REGISTRATION IS REQUIRED to attend.
What's the Easiest Way to Register?
Scan the QR Code!
Phone: 877-553-4332
What if I still have Questions?
Call us at 877-553-IDEA (4332) or email us at info@oklahomaparentscenter.org and we can answer any questions you may have! More information will be added to this page as it becomes available.